Jammu (Jammu and Kashmir) [India], Apr 15 (ANI): One of the two Bharatiya Janata Party (BJP) ministers who resigned after participating in a rally in support of the culprits in Kathua rape and murder case, Chuadhary Lal Singh on Sunday said that he resigned on moral grounds. It further appears that false cases were lodged against the family members.
Meanwhile, Sengar has been sent to a seven-day CBI custody on Saturday. The father later succumbed to his injuries while in judicial custody. A group of lawyers also tried to stop the police from filing a charge sheet against the accused.
The case was later handed over to the CBI.
Singh also demanded for a CBI investigation into the heinous crime, saying that only an investigation will bring out the truth to the fore front. The Prime Minister's Office (PMO) is said to have intervened to hasten the formalities and the DoPT which works under the Prime Minister immediately issued a notification to ensure that the CBI reached the state capital on Thursday evening. "However, this conversation shows that criminals are scared of the government's resolve to eliminate crime in the state".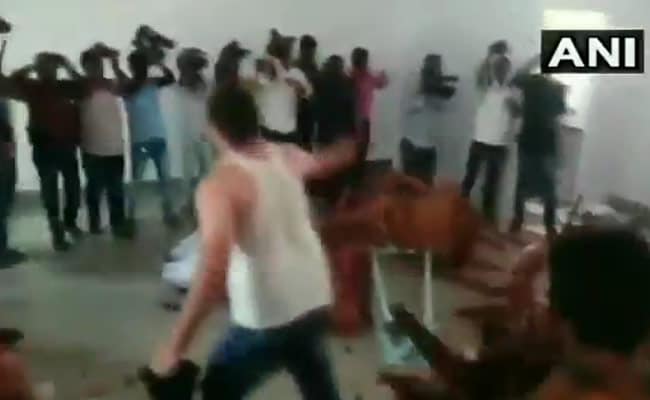 Karnataka Elections 2018 Workers vandalised Congress office in Mandya
Chief minister Adityanath had recently said the police had carried out 1,142 encounters during his one year in power, killing 34 criminals and putting behind bars 2,744 history-sheeters.
In a statement, the agency said it had lodged three separate FIRs in connection with the Unnao rape, and the death of the rape survivor's 55-year-old father, allegedly after he was assaulted by the MLA's brother. The victim's family had also alleged that the accused MLA's brother, Atul Singh Sengar, along with his companions, had also raped the girl and thrashed the victim's father on April 3 for refusing to withdraw the FIR over the same.
The Yogi administration failed to take any cognisance of the poor victim's oft repeated pleas until she attempted self-immolation in front of the chief minister's residence last Sunday, following which she hit the headlines in both print and electronic media.
More news: United Kingdom calls for UNSC meeting on OPCW report on Salisbury incident
More news: Spurs boss Pochettino: Man City showed us why they're the best
More news: Missile Strikes Against Syria Not For Regime Change: Theresa May